CORE (Ages 4-15)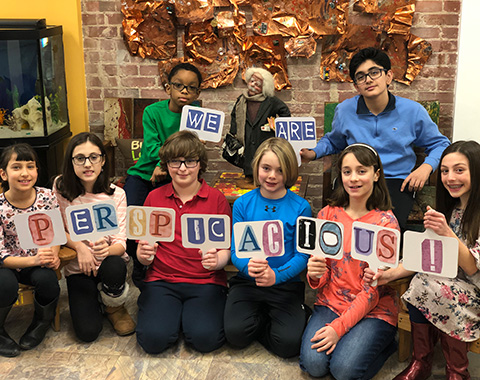 OVERVIEW
Village East Gifted (VEG) offers an academically-rigorous CORE curriculum (all subjects) for gifted students ages 4-15. Its teaching methodology, The Phillips RBM Approach®, is trademarked and patented offering non-linear, highly-creative and intellectually-challenging lessons with a strong emphasis on the perfection of the written word. The teaching approach integrates many curriculum areas activating the multiple intelligences of each student.
METHOD
Utilizing the Phillips RBM Approach ®, VEG implements a "100% Academic" curriculum facilitating the development of appropriate learning activities motivated by each student's academic level and creativity. The CORE classes "teach up", not "down" to the level of the students. Participants never learn what they already know or encounter the same curriculum twice.
Our gifted learners are continuously challenged, refreshed and forever "entertained" by our unique lessons and learning activities. Though we provide ample seating, most of our students rarely sit down. There are wheels to spin, points to be earned and unique, strategic games in which to participate.
One of our alumni once said, "There is always a sense of 'academic spontaneity' in the air… yet, our feet are firmly on the ground." VEG CORE classes have "no walls" allowing program participants to quickly (in just a few classes) evolve into 'academically-satisfied' learners knowing that their questions have been answered, unique insights have been recognized and the complexity of their thought processes validated.
CURRICULUM
Due to the COVID-19 pandemic and the inconsistent educational experience of our students, our renowned all-subject, trademarked curriculum now incorporates components of the state curriculum to ensure that our students have mastered the required skills while actively engaging in our highly creative and academically rigorous lessons. The following subjects are covered in the CORE classes: writing, grammar, linguistics, Latin, social studies, SAT vocabulary, business/marketing, statistics, computer-assisted designs, orthography, global studies, geology, marine biology, geography, STREAM (fields of science and math), practical and applied mathematics, public speaking, international cultures, exotic languages, creative problem-solving, essay writing, idea sequencing, research and study skills, and American sign language.
Each semester, one or more of following topics are introduced and integrated into the CORE curriculum:
» Advanced Essay Writing
» Advanced Linguistics
» Advanced Vocabulary Enrichment
» Anatomy and Physiology
» Animal Studies
» Applied Geometry
» Archeological Studies
» Architecture
» Building& Model-Making
» Braille Transcription
» Business & Entrepreneurship
» SAT/ACT & College Preparatory Studies
» College Essays 101
» Communication Alternatives
» Community Awareness
» Computer Art and Graphic Design
» Corporate Decision Making
» Creative Cognitive Imaging
» Creative Writing
» Critical Thinking and Problem-Analysis
» Debate and Argumentation
» Earth Science
» Economics
» Environmental Studies
» Effective Reasoning
» European Art & Architecture
» Existentialism & Metaphysics
» Factual Game Creations
» Fame & Misfortune
» Famous Philosophers
» Forensics/CSI
» Gems & Jewels
» Graphic Art and Design
» Hands-On Statistics
» History of Cinema
» Infamous World Events
» Innovative Problem-Solving
» Integrated Mathematics
» International Studies
» Journalism
» Law & Mock Trials
» Legendary Short Stories
» Literary Analysis & Reflections
» Living Science
» Writing Lyrics & Poetry
» Mac Music & Graphic Designs
» Marine Biology
» Mathematical Problem-Solving
» Math & Structural Design
» Medical Studies
» Morality and Values
» Multi-Media Presentations
» Musical Story Tellers
» National Academic Competitions
» Paleontology
» Performing Arts
» Political Science
» Power of Healing
» Renowned Artists
» Research, Reports and Study Secrets
» Scientific Mysteries
» Spatial Estimation & Design
» Studio Art: Mixed Media
» Tactile Map Making
» The Art of Culinary Design
» The Art of Marketing
» Understanding the Brain
» Unpredictable Acts of Nature
» Underwater Archeology
For more information
Contact Us
today!